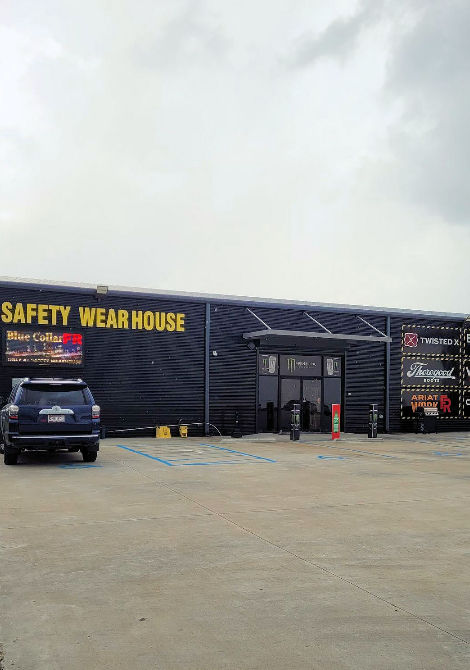 Store hours
Louisiana and Alabama Location Hours
MON - FRI 8AM - 6PM | SAT 8AM - 5PM | Sun 12PM - 5PM
Mississippi Location Hours
MON - FRI 8AM - 6PM | SAT 8AM - 5PM | CLOSED on Sundays
Our Story
Safety Wearhouse started in 1957 when Rankin and Lois Bender opened Mobile Shoe Hospital. Originally, we were a shoe repair company that eventually expanded from just repairing shoes to selling work boots and dress shoes as well.
The company was passed from father to son in 2008 when Rankin named his son, Bruce Bender and wife Lori Bender the new owner and operator of Mobile Shoe Hospital. Shortly thereafter, a rebranding and renaming of the company occurred into what is now known today as Safety Wearhouse. With the rebranding came new and exciting features to the services provided such as the expansion of selling FR clothing, alongside footwear.
In 2011 the company saw expansion again with a second location opening in Mississippi. Four short years later, we added on a Boot Truck in Oklahoma and Texas that ran for 6 month periods per state. In 2016, we expanded our locations even further, opening a store in Louisiana. Our three locations allow us to be able to serve you in more states with locations still in all three states. Still a family-owned business, the company is co-owned and operated by their children and spouses.
Our goal is to provide high-quality multiple brands of FR apparel, steel-toe and soft-toed work boots, safety accessories, and more. We offer commercial accounts and in-house custom screen-printing and embroidery with over 20+ years of experience behind our service. We strive to accommodate both individuals and businesses in the oil and gas industry. We proudly ship nationwide, as well as take call-in orders.